Details

Category: Byzantine Art & Postmodern Times
Hits: 1519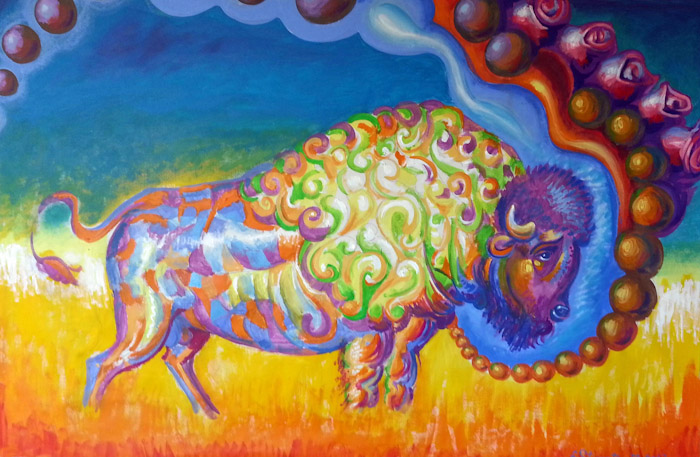 "Buffalo", Acrylic on canvas, Arizona - Porto Rafti, July 2013

The Bison has a brute force that even itself does not know. The bison nourished the native peoples of America with its meat and warmed them with its fleece. In these places it is the pillar of life and the powerful aspect of the landscape. It does not move much, but it has been displaced. It has a vibrant and life-giving presence that we cannot ignore; it dominates the American landscape.
All of the bison's power is located in its head. The hind legs, torso, and chest give strength and momentum to the head, which is compelling. Here, the bison is pictured with his head drawn to the universe, the stars, clouds, galaxies, and everything that comes along. And here again, as in Malibu and in other places, are planets that circle the central hero of the painting. We feel as though the bison is alive in front of us: alive, strong, and universal. It perseveres, with inner strength, enduring its destiny; but also creating it, silently.

At 3:30 in the morning, I finished the face of the bison. I'm not speaking of the head, but of the face. Without my wanting it to, it came out anthropomorphic and looking upwards. It also ended up with a devout, or maybe sad expression. Perhaps we can sense here the influence of Byzantine iconography, which portrays St. George's horse anthropomorphically. The same tradition that, on the rocks of the cave of the Nativity of Christ, sometimes includes eyes that are dazzled before the mystery of the Incarnation of God.