Details

Category: Holy Prophet Elijah
Hits: 2038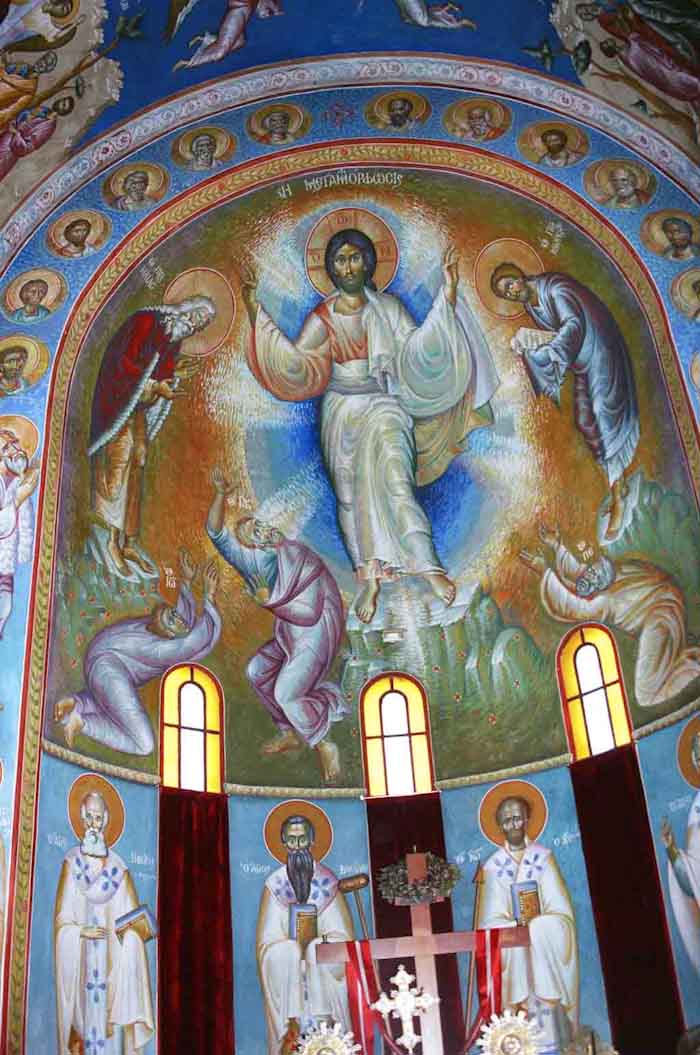 The Transfiguration of Christ – detail, Holy Prophet Elijah, Kastella-Piraeus, Greece.
Situated within the altar apse conch. It was made following Sinai iconography from the period before iconoclasm. The Transfiguration as depicted in Sinai iconography is connected with the presence of Moses (who has met God historically and received the Commandments), while the painting in the church of the Prophet Elijah emphasizes Prophet Elijah of the Old Testament. It is well known that altar apses were initially decorated with depictions of the eschatological Christ (either as the Judge ascending into Heaven, or as the Transfigured Christ Who is giving the Apostles a foretaste and anticipation of the Glory of the Kingdom). The Theotokos "More Spacious than the Heavens" is a theme which comes into existence later, with the appearance of cupolas, after the construction of Aghia Sophia. It was then that the upper section of the Ascension composition was being painted in cupolas (Christ the Pantocrator). The lower section of the same composition – the Apostles with the Theotokos – remained in the altar apse, hence the Theotokos "More Spacious than the Heavens." It is the characteristic of this painting that Christ's "doxa" (glory) is painted with special strokes of the brush so that the cloud (mentioned by the Gospels) might be perceived. Also, there is an "unpredictability" of colors caused by numerous chromatic deposits of the brush and by the unpredictability of space; it is difficult to perceive the relationship of the wall and Christ's body. It is as if Christ's body is standing in front of the altar apse. Brush stroke mannerisms follow the Sinai icon of Transfiguration, especially where reflections are concerned.