Details

Category: Recent Works of Paintings
Hits: 737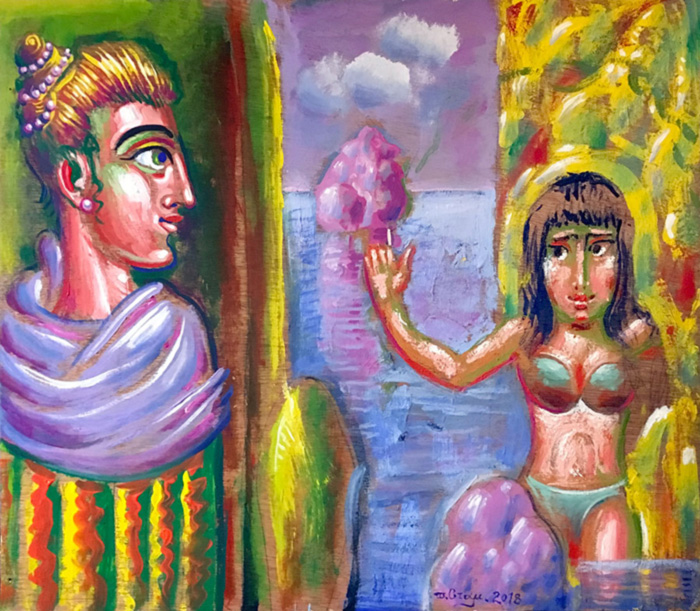 "The Declaration of Independence", acrylic on canvas, 2018

The mother, on the left, more static, looking from above, with earrings and pearls, in hypothetical dialogue with the daughter.
On the right, the daughter in the sea, with a swimsuit, more kinky, three-dimensional, a little scared of the mother, but dynamic in dialogue (as we speculate from her gaze), raises her hand to the mother and symbolically points to the statue of freedom, as if she keeps the islet as a torch where the clouds look (always symbolically) like the smoke of fire.
This psychological contradiction we call (with a certain amount of irony) "DECLARATION (on behalf of the girl to the mother) of INDEPENDENCE".
---
Η μάννα αριστ πιο στατική λίγο αφυψηλού με σκουλαρίκια κ μαργαριτάρια σε υποθετικό διάλογο με την κόρη.
Η κόρη δεξιά μέσα στη θάλασσα με μαγιό πιο κινητική τρισδιάστατη χυμώδης λίγο φοβισμένη απέναντι στη μάννα αλλά δυναμική στο διάλογο (όπως εικάζουμε απ το βλέμμα της) υψώνει το χέρι προς τη μάννα κ παραπέμπει συμβολικά στο άγαλμα της Ελευθερίας ωσάν να κρατάει το νησάκι σαν δάδα από όπου τα σύννεφα μοιάζουν (πάντα συμβολικά) σαν ο καπνός της φωτιάς.
Αυτή την ψυχολογική αντιλογία ονομάζουμε (με κάποια δόση ειρωνείας) «ΑΝΑΚΗΡΥΞΗ (εκ μέρους της κοπέλας προς τη μητέρα) ΤΗΣ ΑΝΕΞΑΡΤΗΣΙΑΣ»